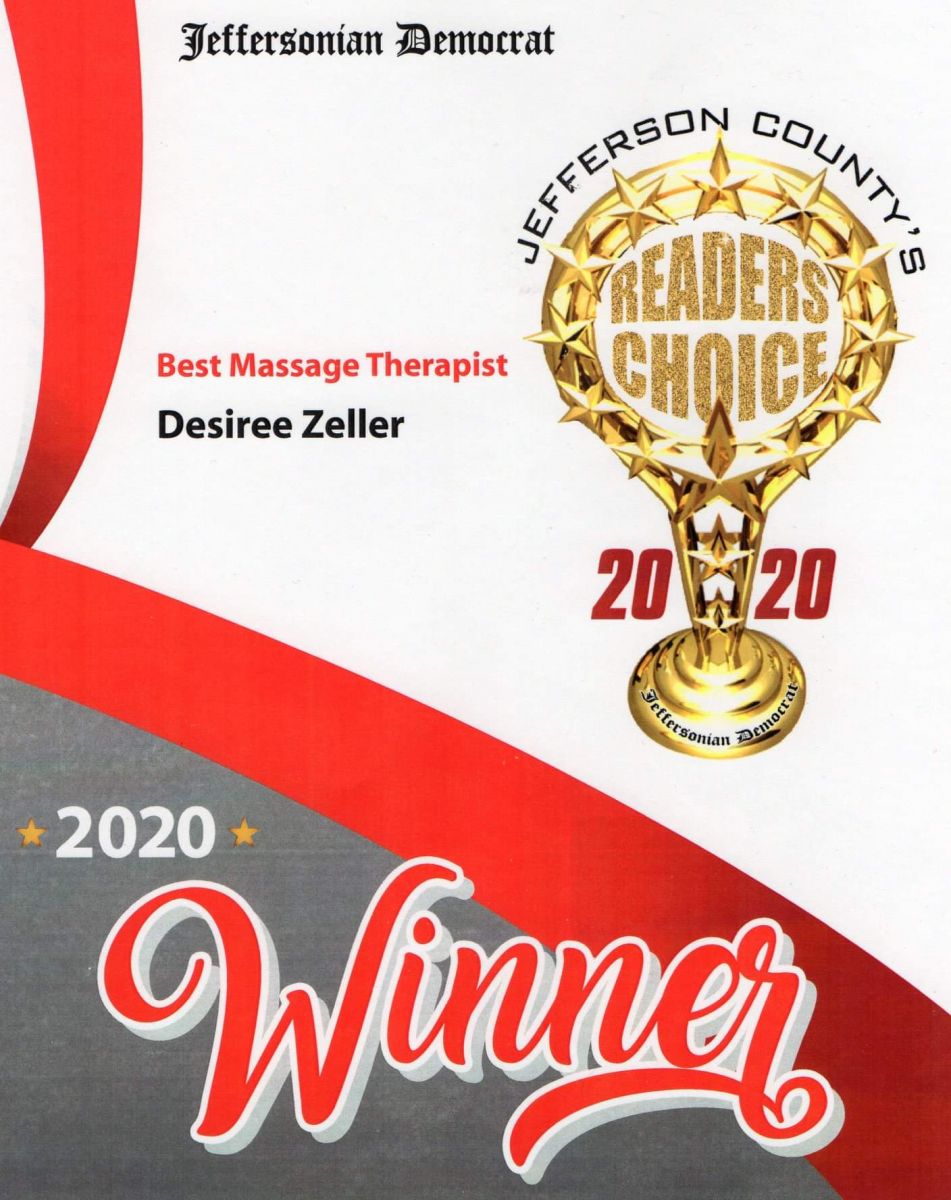 "One word to describe Desiree "awesome". She is not only an "awesome" massage therapist, but a beautiful, friendly, professional lady. I have had the privilege of being a client of hers since September 2015. If you are planning a visit to the Cook Forest area, schedule a massage with Desiree, you will not regret it! You also will not regret the beautiful drive along the Clarion River to get to her quaint, quiet, cozy, studio. ENJOY!". - Lisa Stoehr
**SPECIAL NOTICE**
Due to the current Pandemic, specific precautions have been set in place. Masks must be worn over nose and mouth during appointment and a screening assessment will be taken over the phone, prior to appointment, to assure safety of all clients. My facility is sanitized with a EPA approved solution between each client and I utilize a True HEPA filter air purifier unit in the massage room. Due to 50% capacity restrictions, my square footage only allows one other person, besides myself, in the studio at a time. I am unable to have clients come together for appointments at this time.
There is much expected of the western woman and it is time to fill up your cup so you have enough to give back. This traditional western massage is an excellent option for those that want light or medium pressure (some firm pressure for focus areas may be used, if desired) for relaxation, wellness, mild tension and pain. Regular massage sessions are beneficial to reduce stress, anxiety, tension, insomnia, tension headaches, mild depression and pain. Side-lying option available for prenatal. As always, Aromatherapy is complimentary.
30 minutes $35 (focused)
60 minutes $60 (full body)
75 minutes $70 (full body plus foot reflexology)
Salt Stones Massage
​​​​​​Smooth, heated Himalayan salt stones are used to enhance massage by five times. Natural minerals from stones gently exfoliate, leaving skin soft and rejuvenated. There are many women afflicted with chronic pain conditions such as fibromyalgia and osteoarthritis. This is the perfect massage.(Contraindicated for those with unregulated HBP, acute injury, acute inflammation, neuropathy and pregnancy.) Complimentary Aromatherapy.
45 minutes $60 (upper body only)
75 minutes $80 (full body)
Integrative Reflexology ® for feet
Pressure points integrated with foot massage, reflexology has had several studies proving that it has an effect on the body helping with pain, stress, sleep and even hormones. Hot Stones and Aromatherapy included in this wonderfully soothing and balancing service.
30 minutes $40
Full Body Deep Pressure Massage
I do not offer this service. Call for a referral.
Live Stream Yoga Nidra ; starting in January!
If you love Shivasana, corse pose, in Yoga you will love this class. Class begins with a few gentle yoga stretches to make the body comfortable for a guided mediation in Shivasana for the remainder of the session. This class is done virtually, in the comfort of your home, because it is safer and you don't have to drive home after this profoundly relaxing class. Tap Facebook link above and join page.
Yoga in the Forest- Summer 2021
Enjoy Yoga to the sights and sounds of the forest. I will lead this gentle yoga class designed to help manage stress, anxiety, pain and tension. A gentle yoga sequence will be integrated with deep breathing. You will surely feel rejuvenated! Please bring a small blanket and a yoga mat. Bug repellent will be provided however, you're welcome to use your own or in addition. Consult with your physician before starting any wellness program.Date/Time TBA, weather permitting, 1561 River Road, Front Yard. Bring a blanket and mat. Canceled classes will be notified via email and Facebook page.
I am a Commonwealth of Pennsylvania, Licensed Massage Therapist #MSG003342 and 200-hour (Yoga Alliance approved school) professionally trained yoga instructor.